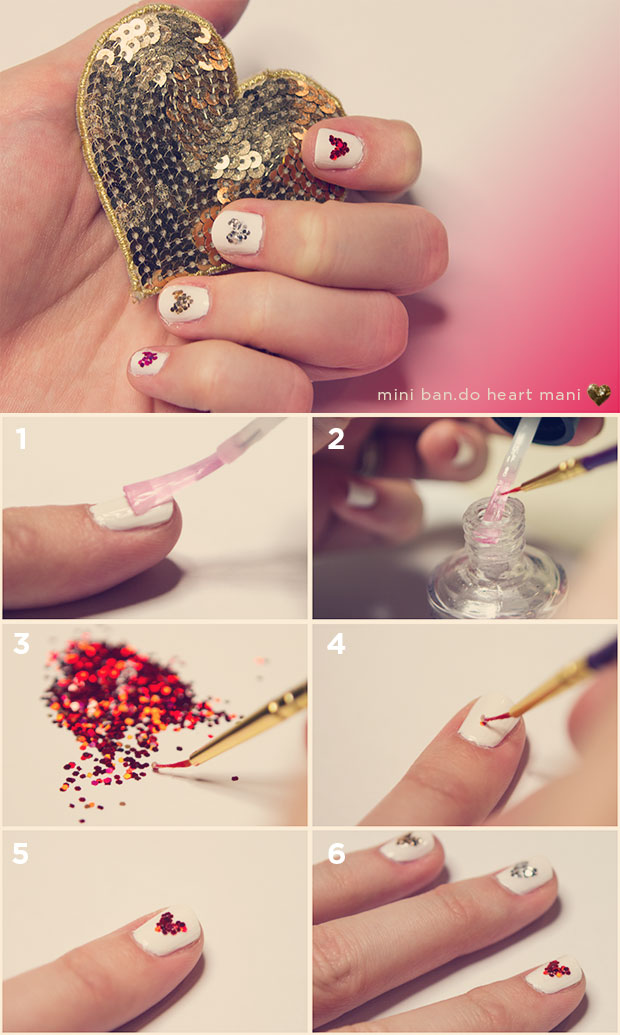 What you will need:
White Nail Polish
Clear Coat
Glitter
Thin tip paintbrush
Steps
*not pictured* Start with 2-3 coats of a white nail polish. (Mine took 3 coats.) Let the nail polish dry before moving on. I used Julep's Quick Dry Polish Drops to help speed up the process.
1. Apply a clear coat to one nail. This will act as the glue for the sequins.
2. Dip the thin paintbrush into the clear coat. This helps pick up the glitter and place the glitter exactly where you want it.
3. Pour out a little glitter and grab one piece of glitter at a time with the brush.
4. Place the first piece of glitter where you would like the bottom tip of the heart to be.
5. Continue placing piece by piece into the shape of a heart. I found placing the glitter into a "V" shape first helped the heart shape come in to place. If the top coat dries and is no longer grabbing the glitter apply another clear coat and keep adding glitter until you are happy with the look of the heart.
I like the look of the layered glitter so I did each layer 2-3 times. Also, the more layers the more it has the effect of looking like a Ban.do heart.
6. Apply a top coat and your manicure is complete. You can continue and do all of your nails or use this technique as an accent nail!
I used a gold, copper, pink, red and silver. Be sure to wear your Ban.do heart to match your new manicure! If you don't have one yet, you can get one here!